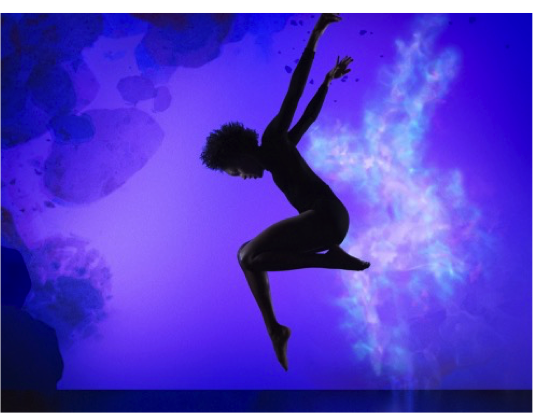 Getting the phone call stating I had booked the commercial for Intel's new campaign "Experience Amazing" was a dream come true. Often times in this profession, you are working non-stop and praying for a breakthrough. That is exactly what this was and it honestly all happened so fast.
One day after rehearsal my director forwarded me an email from a casting agency looking for a dancer with a story of adversity. I sent in my audition packet and they contacted me for a skype interview. I decided to talk about my experiences dancing with Scoliosis – a curvature of my spine that affects range of motion, balance and alignment.
I have always wanted to use this challenging experience as inspiration for others dealing with it as well. A few days following the interview process I was hired by Intel!!! I cried from joy and disbelief. A month later I was on a plane to LA. I was super excited and nervous because I knew how huge this was. I enjoyed my time rehearsing in the studio with choreographer Anthony Talauega and assistant Amy Allen. They pushed me each day and created a dynamic and technical solo that fit my movement style and connected back to my story. After that week, I was on set filming my first international commercial. I was fortunate to have my mother Alexia Fraser by my side to share this experience. Everyone involved on and off set was so nice and made me feel so appreciated. It was a long day on set but I was so fulfilled at the end.
Seeing the commercial air during the GRAMMYs and Superbowl is still so surreal. Thirteen years ago I thought my dreams were over. The day I was diagnosed with Scoliosis I was terrified. When I was diagnosed doctors immediately suggested I get surgery which meant placing metal rods in my back to straighten the curve. My family and I opted to not have surgery and we found a chiropractor by the name of Alex Eingorn for a more therapeutic non-surgical treatment.
Today I am dancing professionally. I am a founding dancer of Visceral Dance Chicago, and a former dancer with Ailey2. Booking the job with Intel is just another accomplishment that I am so grateful for. Looking back at the days when I was worried about my future as a dancer and ashamed of having Scoliosis, I can proudly say that my hard work and resilience paid off. My "Breakthrough Performance" with Intel's new campaign came so unexpectedly but is one of the best things to happen to me. The best advice I can give to dancers facing any setbacks is to use it as motivation to keep going. The best things happen when we are ready. So do the work, prepare and be ready. Trust the timing of your life!
@lovingthispaige | Instagram
Paige Fraser | Facebook
*Information from the National Scoliosis Foundation: http://www.scoliosis.org/info.php