After becoming the  Globeleza Carnaval queen in 2013, beautiful Nayara Justino was  later stripped of her title because she was considered "too black" and Brazil just carried on as if this was okay.
Despite having the largest population of African descendants, Brazil has yet to release itself from skewed concepts birthed since slavery.   After being crowned as  Carnaval Queen's Globelezain  (the face of Carnaval) stunning model and dancer, Nayara Justino was told that people had complained about her complexion. Justino  was stripped of her dream because of Brazil's ongoing racist attitude towards Afro-Brazilians and Black people in general. Even  though she had rightfully won the title after the majority of people had voted for her, Justino was later quickly discarded and replaced by a lighter model/dancer.
http://https://www.youtube.com/watch?v=S0ODz9aIQ_k
After winning the title in 2013 Justino was elated and in a state of bliss. She believed that her crowning had symbolic significance despite the racism she endured throughout her career saying, "It is hypocritical to say that a black person has never suffered discrimination. I suffered at school, in stores where they wanted didn't want to help me, in the street where they cursed me. But I never got down because of that. I love my race, my color… I think I'm beautiful!  There were moments that were strong and I was shocked, but I came out on top. We are all equal! And for whoever called me macaquinha (little monkey) in school, now I say: I am Globeleza and now what? I am here."
Justino had no idea that racism would come back to haunt her in the most brutal and humiliating way. The irony of what has happened is painful and says a lot about Brazil and its inability to progress as it pertains to culture and race. Sure, Brazil can samba their way through their problems and borrow from African culture in grand celebrations such as Brazil's recent  Baile Vogue  but being African and Black is only in Vogue on superficial surface levels that embrace a faux love of the culture and not the people.
http://https://www.youtube.com/watch?v=0aspe6UvAzw
After being dropped, Justino initially said,  "I'm not sad, but certainly I would have liked to continue and I believe that the millions of people who voted for me would too. But I'm investing in my studies and in my business. I have faith that this will be the year of the turnaround," she concluded.
Honestly the concept of the Globeleza Mulata is already problematic in itself not just because of it name but due to the fact that Black women in Brazil are rarely even represented and if so it is often only in a negative way. In the  media, Brazilian women of visible African ancestry are usually only depicted as menial labourers and readily available sex objects.   Black female activists in Brazil have been voicing their concern about ending the  "Globeleza Mulata"altogether.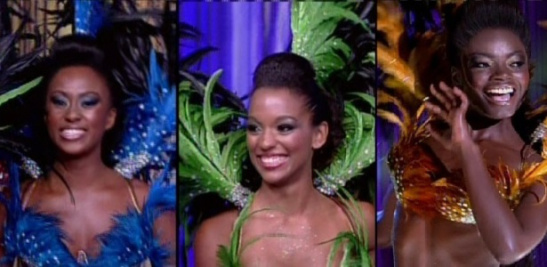 On the website Black women of Brazil, the editor writes that, "The near completely nude, hip shaking "mulata" represents all that black female activists stand against in the desired re-construction of the image of black Brazilian woman. The broadcasting of the Globeleza transmits images of the sexually available black woman to millions of men outside of Brazil as well as maintaining her in one of the two prominent roles that she is associated with inside of Brazil: sex or menial labor. "with the vast under-representation of black women in Brazil's media as it is, it's shameful to see women of visible African ancestry having to battle each other over the few crumbs off of the racist table and also willingly accepting the "place" society reserves for them! "
We support you Nayara and you are gorgeous, please keep speaking out against racism.
Follow Nayara on her Twitter  and check her out on Facebook.
-Abesi Manyando