Nirupa Sejpal-Parmar, an educator and a teacher, has many strings to her bow but she is best known for her passion for cooking. Born in Africa, raised in India, and settling in the United States, her life experiences have shaped her internal focus.  She is the author of   Culinary Consciousness Cookbook.  Culinary Consciousness Cookbook.nurtures body and soul with scrumptious global vegetarian fusion cuisine recipes that provide decadent taste without extra calories. The recipes in this book are healthier, more substantial, and just as satisfying as dense alternatives, allowing you to savor each recipe while eating a greater variety of fruits and vegetables. Check out the recipe for our traditional Tanzanian Bean Soup.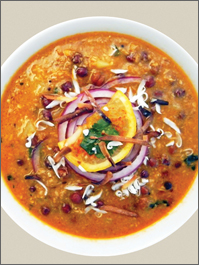 INGREDIENTS:
1 cup brown rise2 cups red kidney beans, cooked6 cups vegetable broth
2 cups tomato, chopped
1 cup sweet potato, boiled and diced
½ cup bell pepper chopped
1 cup red onion, chopped finely
1/3 cup fresh coconut, shredded
1 cup coconut milk
1 tsp extra virgin olive oil
1 tbsp chili powder
1 tbsp curry powder salt & peper to taste
Garnish: ½ cup cilantro, chopped, ½ cup red onions, sliced, and lemon wedges
METHOD:
Heat a saucepan over medium heat and add olive oil. Add the onion and fry, stirring frequently until brown. Stir in the broth, tomatoes,  sweet potatoes, bell pepper, coconut milk, curry powder, chili powder, salt, and pepper.
Increase the heat to medium and bring the soup to a boil. Add the beans and brown rise and boil for 7 minutes. Add coconut and simmer for 5 minutes, the remove the saucepan from the heat. Garnish with cilantro, red onion slices and lemon wedges.
PREP TIME: 35 Mins.
SERVES: 4-6
Find out more about Culinaria Fusion here