Fashion stylist and upcoming Restaurant-er, Grecha "Nana" Roman is known for her high- end polished sophisticated looks with an edgy flair. The Miami native brings her sleek but trendy Latina flair into her wardrobe designs. Such was the case last Tuesday when Grecha with the assistance of Silas the Stylist styled our Managing Editor, Abesi Manyando for the We Tv Growing up Hip Hop Premiere. Grecha wanted to give Abesi a mixture of  retro sophistication with an edgy urban flair using sheer, lace and leather!
Classic sheer and leather looks as seen on Kim Kardashian, Nichole  Scherzinger and Olivia Palermo's  all black & leather NYFW  (below) served as great  inspiration. Mixing this with Abesi's favorite ballet inspired/Stepford wives look that she loves was all Grecha needed to begin. Check out how Nana achieved the look and how you can too.
"It was a chilly night and Abesi was leaning on wearing pants.  She prefers a comfortable but chic look that allows her to move around as she's conducting interviews but at the same time my rule is that if you're working on the red carpet either as a reporter or publicist you need to have a red carpet look to coordinate with the theme of your work/event.. Below are the pieces Silas and I put together for Abesi's look.
She was initially hesitant about wearing a skirt but I had her covered.  Silas laid out the pieces she brought and we only chose a chic button-up sheer shirt from her look.  I thought it was journalism chic and I knew I could dress it up the way I envisioned her to be. It was a new year so I wanted to add to her style in a more edgier way but still keeping the preppy classic ballerina/stepeford wives look that she likes at times.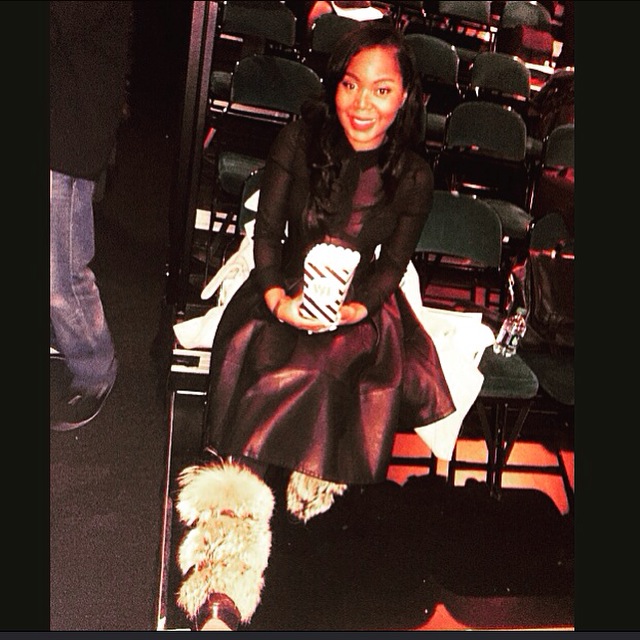 My pallet began with the the sheer black blouse and I added a sexy lace bra inside to compliment her shirt.  I then selected thick black classic stockings,  red bottom furry boots along with a Valentino wool coat that could keep her warm. I wanted her shirt buttoned all the way  to the top for an elegant look and I chose a very high fitted peplum leather black skirt without the flair to capture her shape and femininity matching my initial vision.  This look gave Abesi the sophisticated ballet and retro look that she loves and the stocking and red bottom furry boots added the trendy urban flair that I wanted to do.
This was obviously a very expensive look if you add the numbers but my look is easy to get for anyone and you don't have to break the bank to achieve this look.  There are a few ways to mix up the look I did and make it it into your own.  Above are a few looks  that I saw and loved." – , love Grecha… Nana to you..XOXO
For other reporters and publicists working the golden globes red carpet Grecha's look will get you noticed. Grecha is available for personal styling for appearances, television and film.  Outside of fashion, she is a healthy food connoisseur and is currently working on her upcoming organic restaurant in Atlanta. You can find and follow Grecha on her Instagram.