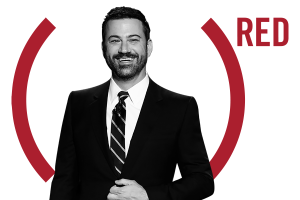 In just a few hours the most important Shopathon and holiday extravaganza will begin! Co-Produced by (RED) and Vice Media the Shopathon (RED) to fight AIDS will kick off tonight on ABC's Jimmy Kimmel Live.
Jimmy Kimmel Live! will start off  (SHOPATHON) RED with a tongue-in-cheek take on the world of home shopping. "We're doing a very special show on December 1st with many stars in support of (RED) to raise money to fight AIDS on World AIDS Day. It will be a great show for an important issue," said Jimmy Kimmel.  Joined by Olivia Wilde, the show will feature (RED) products and guest stars launching once-in-a-lifetime experiences to help the fight to end AIDS. Appearances include Bono, Matt Damon, a live performance by The Killers and special segments with Tom Brady and Shaquille O'Neal, among other surprises. Jimmy Kimmel Live! airs weeknights at 11:35|10:35 CT on ABC.
http://https://www.youtube.com/watch?v=HvG14ldD0wI
A (RED) shopping extravaganza featuring Bono, Scarlett Johansson, Snoop Dogg, The Weeknd, Meryl Streep and more will live on-air and online through the holidays, selling  iconic (RED) products, limited edition pieces, and the chance for fans to win once-in-a-lifetime experiences with celebrities in partnership with the online giving platform, Omaze. Raising money for the Global Fund to fight AIDS, every dollar will be matched by The Bill & Melinda Gates Foundation, up to $20 million, meaning there have never been more reasons to SHOP (RED) and SAVE LIVES.
ENTER TO WIN ONCE-IN-A-LIFETIME EXPERIENCES THROUGH OMAZE WITH BONO, SNOOP DOGG, GAME OF THRONES, THE WEEKND, KIM KARDASHIAN, MERYL STREEP & SHAQUILLE O'NEAL, AMONG MANY OTHERS
The Bill & Melinda Gates Foundation double impact by matching every dollar raised up to $20 MILLION  "The progress we have made in the fight against AIDS is immense, but so is the jeopardy if we grow complacent and think we've conquered this vicious little virus… Because we haven't! We have to keep pushing until everyone who needs treatment can get it and until we can prevent the millions of unnecessary new infections we are still seeing every year," said Bono, co-founder of (RED) and ONE. "Justice often calls for the power of strange bedfellows, which is why (SHOPATHON)RED is where you'll see everyone from Bill Gates to Snoop Dogg, Vice and Game of Thrones campaigning to get closer to finishing AIDS once and for all."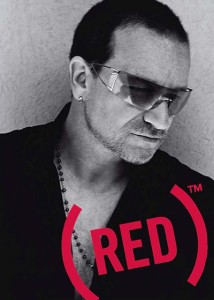 In 2006, Bono and Bobby Shriver began paving the way for a new generation. An AIDS FREE GENERATION. They founded (RED) with a simple mission—to make it easy for people and businesses to join the fight against the deadly virus.
The facts: AIDS has killed more than 34 million people since its discovery in 1983. More than 37 million people are living with HIV, and mothers continue to pass the virus in startling numbers to their children.
Life-saving anti-retroviral treatments cost less than 40 cents a day, yet most AIDS victims won't see medicine in their lifetime. We're determined to change that.
Throughout the past decade, (RED) has raised more than $320 million with the help of companies like Apple and Coca Cola. 100% of the money from our products and events goes directly to work on the ground—but we still have work to do.
There's no question that progress has led to possibility. We can see an AIDS FREE GENERATION in our lifetime
Sell-ebrity sells on Omaze.com/RED; $10 can get you the experience of a lifetime.
Want to visit the Game of Thrones set, or hit the saddle for a bike ride with Bono? These are just some of the once-in-a-lifetime experiences that can be won on Omaze, the online giving platform. Other experiences include;
These stars, and many others, are offering once-in-a-lifetime experiences in support of World AIDS Day. For as little as $10, fans can enter now for their chance to win on Omaze.com/RED, with proceeds going to fight AIDS with (RED). Entries close on January 21, 2016. All of (RED)'s World AIDS Day activities can be found at (RED)'s new website, RED.org,