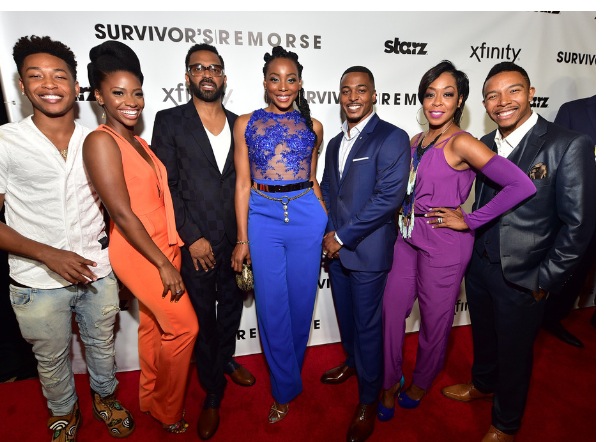 The Lebron James-produced hit series adds depth and dimension to television.
The second season of Lebron James' breakout hit, Survivor's Remorse premiered this Saturday on STARZ.  Created by Mike O'Malley the comedy is executive produced by James, Maverick Carter, Victor Levin and Hilton Smith. Ahead of Saturday's premiere, STARZ® and XFINITY® hosted a red carpet premiere coordinated by 135 street agency. The Source was in attendance at the exclusive premiere in Atlanta.
Survivor's Remorse offers a look inside the meteoric rise of  Cam Calloway (Jessie T. Usher) who's transitioning from normal life in Boston to the limelight after signing a lucrative pro-basketball contract. The show is raw and well-written offering an array of different perspectives pertaining to family, finance, culture and "fitting in" to mainstream standards. Arnold who plays Cam's protective mother and Epps who plays his hilarious Uncle Julius deliver Emmy-worthy performances and Teyonah Parris beautifully shines on the show where characters actually have layers, depth and complexity.
Arnold who has had a long successful career since her days playing Pam on Martin feels blessed about her longevity.  "I really give all the honor to God and I'm grateful for the opportunities I have. My fans get to see a different side of me on Survivor's Remorse." Epps who's currently in character for his role as "Richard Pryor" says audiences will be in for a great unpredictable ride. "There's a lot to look forward to and you don't want to miss it!" Survivor's Remorse airs Saturdays at 9:30.
-Abesi Manyando
@abesipr
photo credit: Reginold Benjamin
photo caption: Tichina Arnold, Mike Epps, Teyonah Parris and the cast of Survivors Remorse on the red carpet